Children are supposed to be like children. Only with age does thought matures. Children are incapable of responsibilities. If you have such notions, then please read on.
It is an astonishing fact that climate change phenomena began at the beginning of 19th century itself. With the increasing technological intervention, it was only in 1970s that the scientific community agreed to the greenhouse gases being major factor for climate change and also reached a consensus about human-made emissions causing global warming.
It was in 2015 did the case Julian v. US began. Around 21 children from US went on to drag the government to the Hon'ble Court for promoting the use of fossil fuels in spite of realising about climate change which snatches away the constitutional rights of life and liberty from the future generations of the country.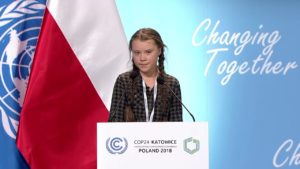 Being a country which supports Paris climate change agreement, Norway started to expand their Arctic oil drilling. A 17-year-old Elina Berg stood against the government to fight against this. "My worst fear is that there will be an oil spill", says Elina.
Similarly has the Columbian youth succeeded in suing the government to protect Columbian Amazon forests and stop deforestation as it threatens their constitutionally guaranteed rights.
Leave alone other countries, even Pakistan government has been sued by a 7-year-old girl, Rabab Ali, who knocked the doors of Pakistan Supreme Court in demand of a safe environment for her and her friends.
These are few examples of how the children of the day are getting responsible about their future and environment per se. There are instances of the same kind in India too.
Climate change, children and India:
2015 it was, and Arjun Gopal, Aarav Bhandari and Zoya Rao Bhasin – three kids aged between 2 and 4-years filed a petition in the Supreme Court calling for a ban on firecrackers in Delhi-NCR which led to the ban of firecracker bursting in the NCR region.
In 2017, Harsh Dahiya who was then studying in class 9, along with 5 others moved the National Green Tribunal resulting in issuance of notices to the Centre and Delhi Government regarding industrial air pollution in West Delhi. A nine-year-old girl, Ridhima Pandey, of Uttarakhand too filed a case in the court against the government for failing to take an effective action against climate change.
Greta, the great!
A special mention of this girl is apt for this situation. 16-year-old Greta Thunberg from Sweden went on to organise a school strike for climate and raised awareness about global warming in front of the Swedish Parliament building. That didn't stop there and she gave a speech at the 24th Conference of Parties (COP24) to the United Nations Framework Convention on Climate Change which was held in December 2018 at Katowice, Poland. Her daring speech in COP24 shook the leaders of the world. She spoke for 'Climate Justice'. Here are few excerpts of her speech –
"Many people say that Sweden is just a small country and it doesn't matter what we do. But I've learned, you are never too small to make a difference.
You only talk about moving forward with the same bad ideas that got us into this mess, even when the only sensible thing to do is pull the emergency brake. You are not mature enough to tell it like is. Even that burden you leave to us children.
Our civilization is being sacrificed for the opportunity of a very small number of people to continue making enormous amounts of money. Our biosphere is being sacrificed so that rich people in countries like mine can live in luxury. It is the sufferings of the many which pay for the luxuries of the few.
You say you love your children above all else, and yet you are stealing their future in front of their very eyes.
We have not come here to beg world leaders to care. You have ignored us in the past and you will ignore us again. We have run out of excuses and we are running out of time. We have come here to let you know that change is coming, whether you like it or not."
Her 3-minute speech rings in my ears even to this moment. Such was the power in her words. Her words inspired the children of Australia and Brussels to strike against their governments demanding strategic policies to fight against climate change.
'Children are Nation's future and tomorrow's citizens', said Jawaharlal Nehru.
These are few children who have grown to think about the country and the daring steps taken by them. Let the children be our role models. It is time we imbibe in our children the quality of courage, social responsibility, empathy, intrinsic care for the world and stop taking children lightly when they can be moulded into superpowers to stop social injustices, problems of the society and setbacks of the world. And children are the superpowers who can stop climate change. If climate change and its impact gets imprinted in the younger generation, it will be the next best thing to taking measures for reducing climate change.
'Let us remember: One book, one pen, one child, and one teacher can change the world' – Malala Yousafzai.