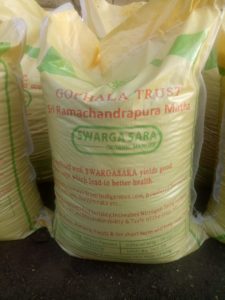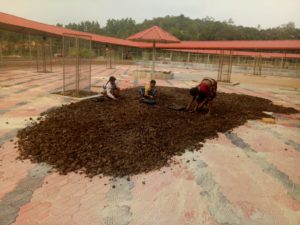 This is a completely organic fertiliser or compost manufactured by Gouphala trust for the benefit of farmers.
Our ancient scriptures praise gomaya by stating Lakshmi resides in gomaya. Meaning to say, the Gomata who shelters the human throughout his life, bestows him most with the important gifts by giving gomaya and gomutra. Our ancestors used to worship gomaya and gomutra as Lakshmi and Ganga. The food we eat can be truly healthy only if such divine and healthy products become one with soil.
With the intention of making the food that we consume totally healthy and to provide a chemical fertiliser free setup to the soil which produces such healthy food, an organic manure is produced from gomaya and gomutra.
With the guidance of SriSamsthana , who has devoted his life for the revolutionary vision of protection of desi cows, Gouphala trust has been established to take up such a huge task.
The gomaya available from the goushalas of SriMatha is mixed with neem, castor fodder and other biological substances to bring in certain minute enzymatic changes to finally produce Swargasara manure to farmers.
The amount of manure to be used for different crops:
1. Coconut crop – 10kgs
2. Arecanut crop – 2kgs
3. Plantain crop – 2kgs
4. Paddy (1 acre) – 1000kgs
5. Pepper crop – 1/2kgs
6. Cocco crop – 1kgs
7. Vegetables (1acre) 1000kgs
8. Flowering plants – 1/2kgs
9. Coffee plantation – 1kgs
10. Fruit plantation – 2kgs
11. Rubber plantation – 2kgs
The nutrient composition of this organic chemical free manure :
1. Nitrogen(N)1.9
2. Phosphates(P) 0.7
3. Potash(K)1.9
4. Carbon(C) 24.3
5. C/N ratio 13
6. pH 8.1
7. Moisture 30.0
There are numerous benefits of using such manure produced from the excreta of desi cows :
1. It increases the fertility of land each year.
2. Quality, quantity and taste of the crop multiply.
3. It aids in the production of chemical free and safe food products.
4. It increases the quantity of earthworms which in turn increases the fertility of the land naturally.
5. Being an environment friendly, pollution free natural fertiliser, it maintains the eco balance.
6. The biological substance used to produce this manure increases the useful minute organisms in the land by lakhs.
This manure is cost effective too.
* 1kgs costs ₹25
* 2kgs cost ₹50
* 5kgs cost ₹100
* 40kgs cost ₹600
For further information on procuring manure :
Contact- 9449595238 or
Gouphala Trust (Reg),
#378, 2nd floor, 2nd cross, Girinagar, Bengaluru – 560085
Why the delay? Let us feed Swargasara to our mother Earth, who nourishes us.
Save Mother Earth and her health!
Farmers, use Swargasara, it's a true wealth!!