Haigunda stands on the banks of the calm and majestic river Sharavati. It has the greatness of being the land of Mother Sri Durgambika. This ancient land of yajnas is the original place of the Havyaka Brahmins. It is green in both the coolness of monsoon and hotness of scorching sun.
Haigunda is a place chosen by the Kadamba king MayuraVarma of Banavasi over 1500 years ago. He split the river into two for protecting yajnas and made the river flow surrounding the yagabhumi. He brought the Brahmins of seven gotras from Ahichhatra which is on the banks of river Saraswati. These dvijas who used to perform havyas-kavyas and they came to be called as Havyaga, Havika, Havyaka, Haiga. Haigunda means tall place. The yajnakundas, broken sculptures, bricks found in Haigunda prove that it was a yagashala before.
Where is Haigunda located?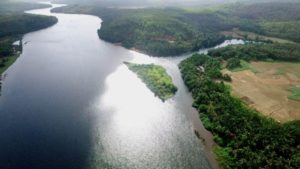 Allanki is a village 20 km far from Honnavar. There onwards, travelling in a boat for 20 minutes, crossing the Sharavati river, we can find Haigunda. Temple of Mother Sri Durgambika stands there. The padmasana, smile of the Devi fills the heart. Outside of the temple, there are many broken sculptures. It is a good opportunity for history enthusiasts for research. Renovation (kayakalpa) work has been done to the temple which was deteriorated in the course of time. The Sharannavaratri festival is celebrated grandly and many devotees from distant places come and pray. Bridge is being constructed for the benefit of the devotees.
This holy land got merged with Sri RamachandrapuraMatha with the blessings of His Holiness Srimajjagadguru Shankaracharya Sri Sri Raghaveshwara Bharati Mahaswamiji. This is a great fortune for the disciples.
To enjoy modernisation in the background of faith, Haigunda is an apt place. The offerings of the devotees shall fulfill their desires. From the research point of view – the island, from sanctity point of view – the blessings of the Mother, from refreshment point of view – the boat ride, and to refill the spirit of life, Haigunda can be visited.
Contact:
K. G. Hegde, Haigunda
President, Seva Samiti
9480042056, 08387261856
M. S. Hegde, Gali
President, Havyaka valaya, Gerusoppa
9483759300, 08387265500
K. G. Bhat, Chief Administrative Officer, Sri RamachandrapuraMatha
9449595209
Nilakanta Yaji,
vice president, Honnavar Havyaka Mandala
9448729433
P. S. Bhat, Upponi,
honorary invitee
9448120033, 0838728003
Havyapuradhishwari Sri Durgambika temple, Haigunda
Post: Herangadi, Honnavar taluk, Uttara Kannada district